Alright, I get it; investing in a promising low-cap crypto project is a no-brainer and everyone knows this. So I guess you are wondering why I am making a fuss about this. But DexCheck is actually a bit special to me. The feeling is the same as when I bought Fantom (FTM) at $0.003 in 2019. I'll save the long story for whenever.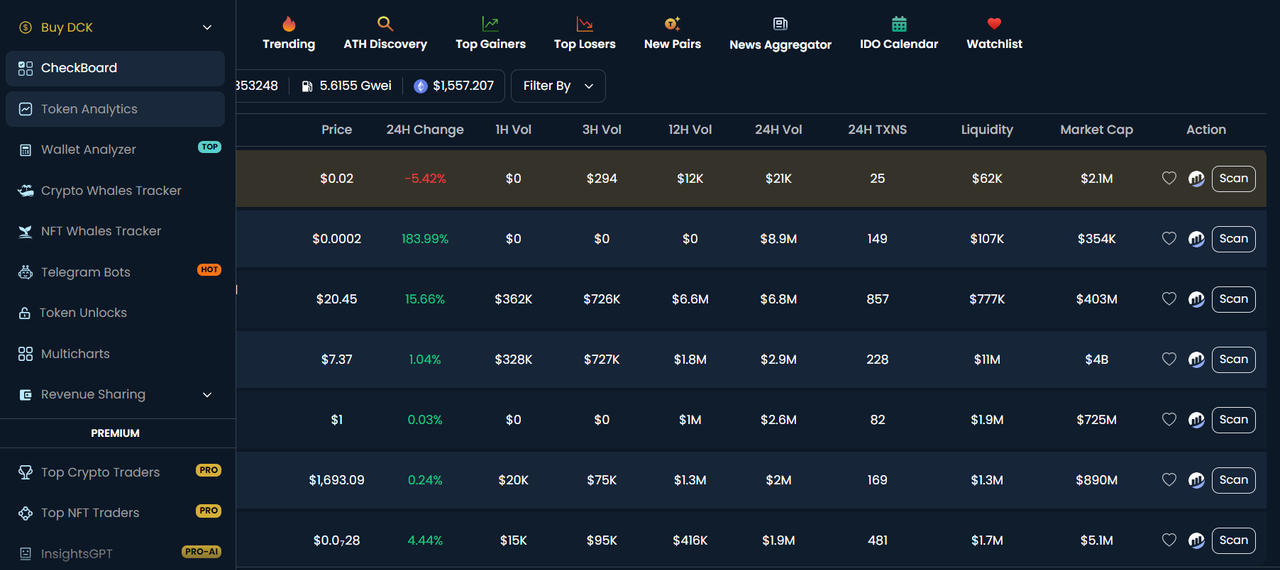 I stumbled on DexCheck while researching cool low-cap crypto projects to invest in since the whole market looks like a black Friday discount right now. The potential for the $DCK token to moon in the near future is there, but the technology, the community, and the team (of course!) are what impressed me most. I'll put an early disclaimer, this is simply a review by an impressed user and not financial advice. Having said that, I'll reiterate the positive impression the application has left on me.
If you wonder what DexCheck is;
DexCheck is an investor's best friend. It is a suite of investment utilities powered by Artificial Intelligence (AI) and blockchain technology. DexCheck utilities range from deep asset analysis to expert investment suggestions backed by strong data. With an integrated decentralized exchange powered by Kyberswap, DexCheck lets you implement your analysis by making a sale or purchase. It offers a full suite of trading utilities and tops it off with a Revenue sharing program that offers passive income opportunities to top users and community members.
Sometimes I'm not so good with words and I admit that this description is a bit shallow. I will take these features one after.
First, from my experience so far, DexCheck truly works!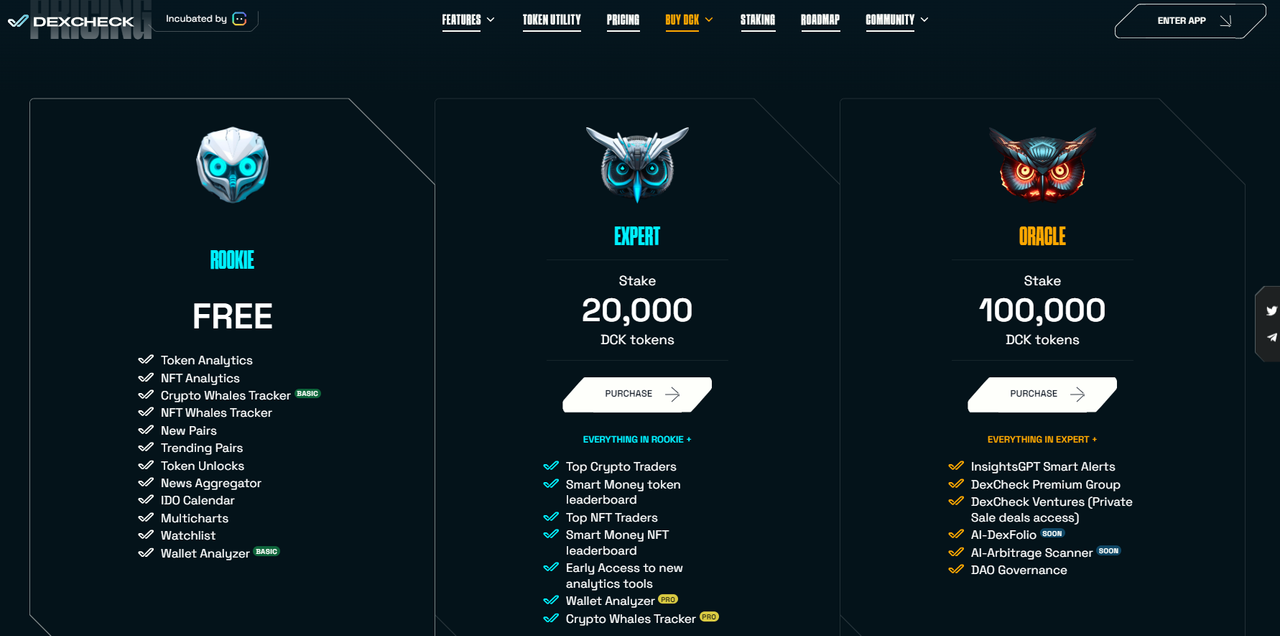 I subscribed for a DexCheck Oracle account that allows me to enjoy all of the available privileges. To subscribe for a DexCheck Oracle account, you only need to stake 100,000 DCK tokens (luckily this costs less than $2500 at current token price!) and enjoy staking rewards as well!
Free-to-use DexCheck utilities include Token Analytics, Whale tracker (For NFTs and Fungible tokens) and the Token unlock features.
For traders who take the vesting schedule of assets into consideration before investing, the Token Unlock feature details the vesting scheme for every token. You can now see when the next big supply is getting released with a single click.
The DexCheck Whale Tracker.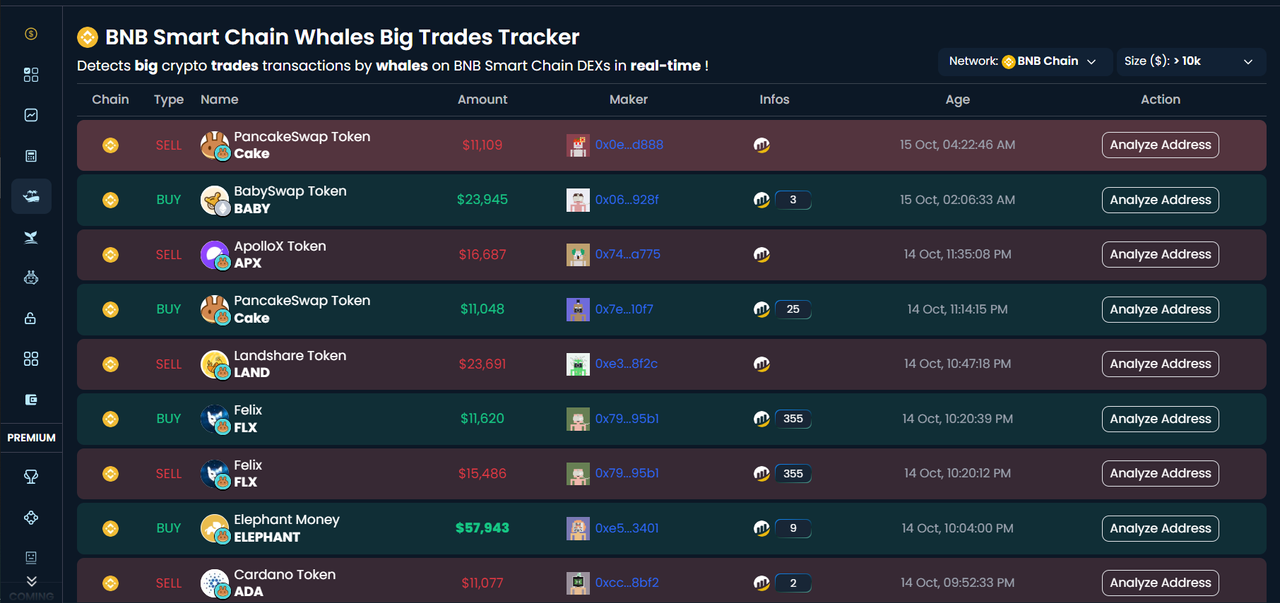 I'm particular about the DexCheck Whale Tracker! The Whale Tracker screens through decentralized exchanges to detect huge transactions and the wallet behind these transactions. It offers a one-click access to a full analysis of the wallet. Considering the prevalence of whales in the crypto space, this is a must-have. I snipped up a couple of giant PancakeSwap and Uniswap Whales with realized PNLs of over $150,000 and set up an alert on their trades. This takes the bulk of my Whale watching duties!
Trading Features for Pros!
The upgraded version of the Whale Tracker feature is available for pro traders. The Top Traders feature screens through Dexes and NFT trading platforms to detect wallet addresses with the highest ROI on trades. Using the top traders feature lets you see what the best traders are trading and how much they commit to their trades. This is available for NFTs and Fungible tokens as well.
Alright, I'll get to my favorites, the Telegram bot and DexCheck's trademark insightGPT.
InsightGPT: In-depth Trading Analytics powered by Artificial Intelligence!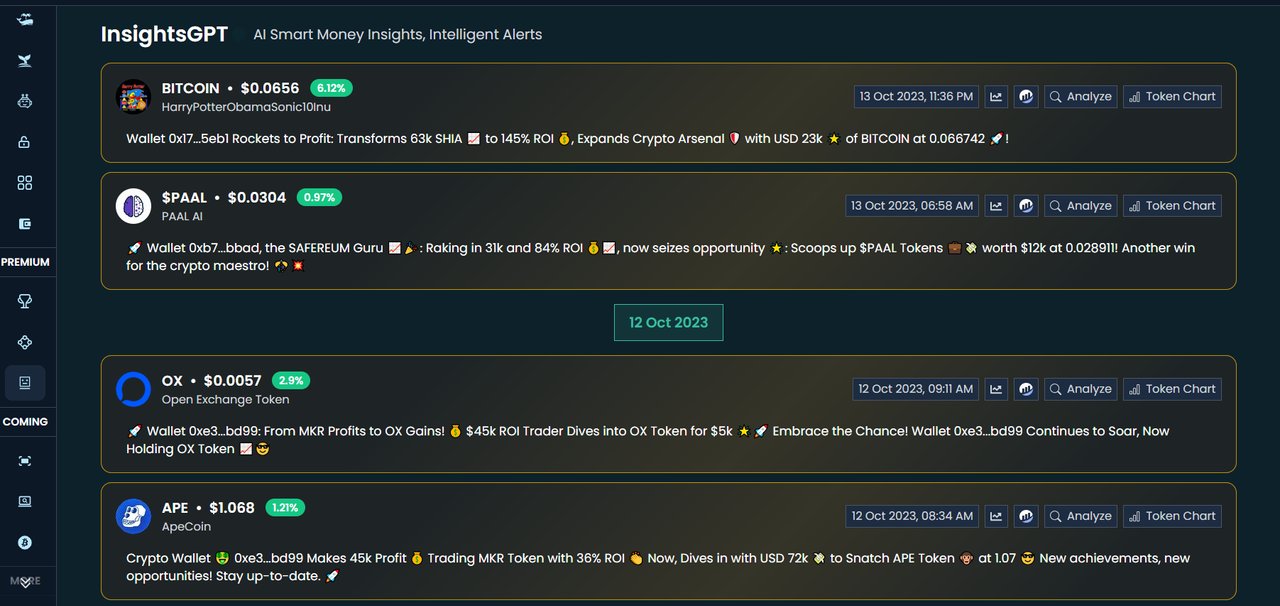 In case the whale trackers and the Top trader's features don't cut your workload enough, insightGPT is what you've been looking for! InsightGPT is a next-level automated trading analytics application. According to DexCheck, InsightGPT leverages Artificial Intelligence to analyze vast data in real-time, enabling it to provide actionable insights. InsightGPT offers smart money alerts and details on winning traders.
InsightGPT is your loyal transaction and big operation sniper! The dashboard is an all-around optimized interface that allows you to get regular delivery of interesting moves for specific tokens and take prompt action, you can quickly follow the featured wallet to get an alert when the trader moves again.
For most, InsightGPT is an advanced version of the wallet tracker and the top trader feature, but it is actually a way to augment the two. It combines the core functionalities of the two applications but the best trading will be made by the trader that is able to fuse the three utilities together.
DexCheck Telegram Bot: Advanced crypto trading Telegram bot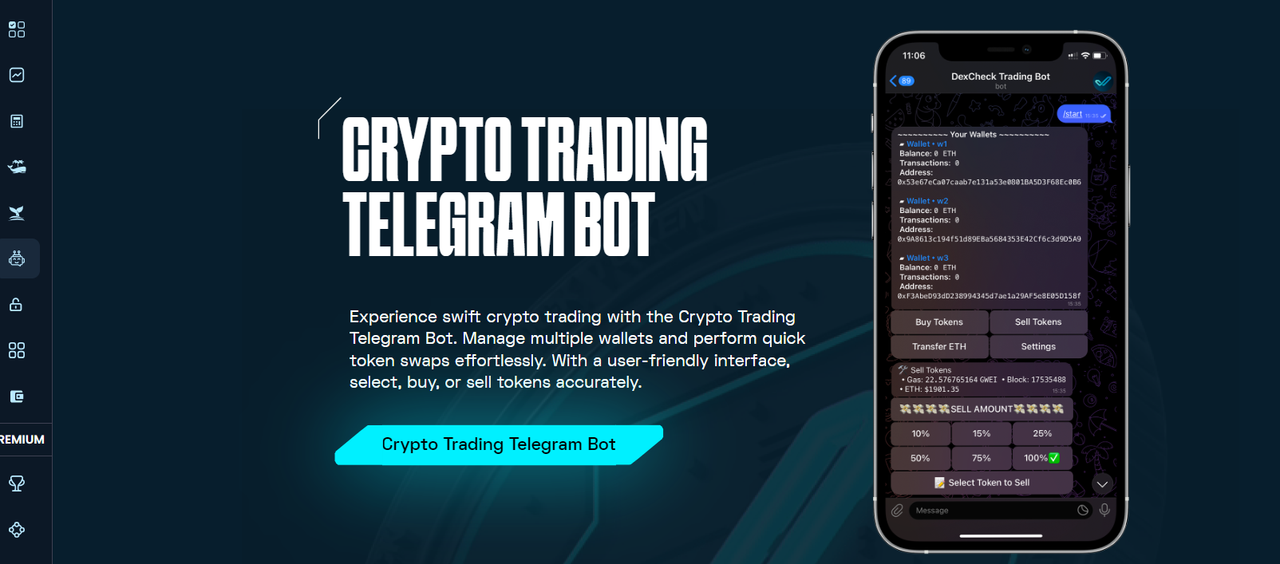 It gets even better with the DexCheck Telegram bot. I admit that sometimes, it could be tedious to swing between different decentralized exchange platforms just to make your trades. This is a time-tasking process as well. The Dexcheck Telegram bot is a fix for this. It offers investors a way to execute normal and advanced trading activities from the comfort of their Telegram Messenger.
The integration process for the Telegram bot is easy and requires no technical experience. Once installed, you can trade on decentralized exchanges, Track cryptocurrency wallets, and perform advanced trading operations like Sniping trades. I'm a bit excited about the potential of this particular feature.
The Snipe trading bot screens exchanges to detect profitable opportunities and trade accordingly. For instance, the snipe trading bot notices newly added liquidity pools and moves to make a purchase before anyone else does. This allows you to purchase tokens at the lowest price and trade them in for a profit when full trading starts. The Snipe trading bot is equipped with advanced trading and analytics algorithms that enable it to run trades better than the regular trader. One thing I left out, the Snipe bot is automated, you can simply set it up with funds and it runs on its own.
You could mention a handful of similar projects, but DexCheck stands out for a couple of reasons. I'll list them;
A Truly working application
I took the time to go through the features on DexCheck. It is easy to draw up a prototype but harder to develop an application that works as stated on paper. DexCheck runs as stated and the positive first impression was sustained throughout the times I used the application. From the smart contract token analytics to the trader and wallet analytics to the advanced Telegram Bot and the AI-powered InsightGPT. Each application leaves you coming back for more. Even without subscribing to the pro-trader feature, DexCheck offers the utility that most normal traders lack and crave.
An intuitive interface
DexCheck might sound very technical and it actually is. But these complexities are packaged into an intuitive user interface. Regardless of your technical abilities and your knowledge of the crypto space, DexCheck is very easy to use. Each feature is distinct and easily accessible. In case of confusion, the DCK team has also shown dedication to guiding users through using the application.
Have a question? You can join the Telegram community and the MODs will be happy to help!
Investor-friendly tokenomics
The DCK token is at the heart of the DexCheck applications. The DCK token powers the DexCheck application's economy and supports its ecosystem to promote application usage and incentivize user involvement. DCK is a BEP-20 token on the Binance Smart Chain. The DexCheck team has developed a scheme to grow the DCK token and also fast-track the project's growth through its token.
Via a symbiotic growth scheme, the DexCheck application and its token are designed to grow in utility and value. DCK is used in the project's governance through the DexCheck DAO. DCK holders vote on new features and changes to the project's operations. DCK token is also used for purchases, subscriptions, and user reward schemes through the Revenue sharing program.
Check out active trading pairs for the DCK token.
A Promising Team
This should actually come first but I had to save the best for the last. The success of any project depends 60% on the team behind it. Looking at the DexCheck team, the advisory team, and the partners, we could see this project climb to higher highs in the near future. Partner projects are prestigious and DexCheck is integrating across notable blockchain networks and communities including Polygon and Fantom. The DexCheck advisory team is made up of top officials from Polygon, ChainGPT, Kucoin, and Maven Capital.
What's Next?
I took a look at the DexCheck roadmap and it looks packed for the future, the last quarter of the year will surely see many exciting releases the AI-DexFolio and the AI-arbitrage scanner are some of the new features I am looking forward to. It is interesting to see how the project employs Artificial Intelligence in these two new features.
I've personally picked interest in arbitrage trading multiple times, but it is clear that arbitrage trading will be a very tough thing to do without some sort of automation, the AI-arbitrage scanner might just be the tool that finally unlocks arbitrage trading.
Closing up
The thing is, I attempted to go through every utility that DexCheck offers, but this whole article is in fact, a scratch on the surface. I'll eventually follow this up with even more articles and possibly some user guides and personal tips. Not sure how soon this will be anyway. However, the project is evidence of the evolving trading culture and the role of advanced technology in improving trader's decisions. As a cryptocurrency investor, you are already wondering how these features will boost the price of the DCK token, I do too. And while I already bought some DCK tokens, I'm focused on discovering the best ways to put the basket of utilities on the platform to use. The general design makes it easy to do this.
Loving DexCheck already?
There is no ads to display, Please add some