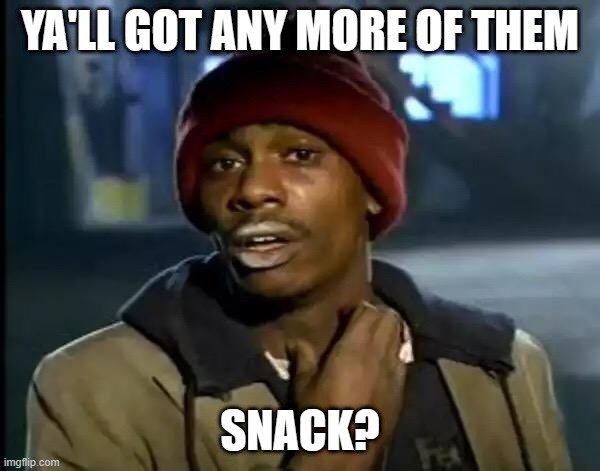 Alright, I just got a sack full of snacks, it's been a long day! The neighbour, just a block away is blasting some hip-hop music. Since this is crypto-related content, you'd guess the artist would be Soulja Boy or Lil Yachty; but coincidences aren't as usual as we've made them be. Talking about those guys, we might see them return to the crypto space when the next memecoin season dawns on us. Soulja Boy led the marketing for the LimeWire token. Unfortunately, it couldn't do a quick and temporary 10X before it crashed into obscurity. That $30 million ICO fundraiser will be enough to pay off Soulja and Bahd Barbie; since the latter is aboard the 'content creation' project as well. Well, time to move on, condolences to the ICO participants turned into bagholders.
Back to my neighbour's music, it's a 2009 Kanye, Jay Z, and Rihanna classic. A rich song…literally. But the inspiration for this article didn't even come from there. Actually, there was no inspiration for this article. I just needed to slow down the half-life of this snack by talking crypto and web3 along the line. This is the first ever 'snack talk' (from me), new editions will be made anytime I stumble on a good snack. Good snacks aren't so common in this area of the world, so, be rest assured that the next edition of this terrible series (might) take time.
Going ahead, UNIBOT is doing some face-melting on the charts, but that isn't the main thing you should be worried about. There is a new Bitcoin in town, not the Satoshi one, the Obama one. Funny enough, Mr.44 wasn't even a fan of crypto. He might have taken a few Bitcoin from that silk road seize, but that's not enough to put his name in a top 300 crypto asset. Mr.45 was a more crypto person than his predecessor. He even runs a whole NFT project. Really significant, for the fact that he did bash Bitcoin. If Americans vote for another Democrat that isn't Joe, then we might see a real Bitcoin fanboy in the Whitehouse. Heard he got two bitcoins each for his 7 kids. I'd give the best gifts to my kids too. W dad!
Hollywood is jumping between worlds. From the black-and-white world with Oppenheimer and then to the Pink world with Barbie. I'll most likely pick a Chris Nolan movie, but this isn't a recommendation. And this isn't even any of our business, well, until Oppenheimer Memecoins start trooping in. Before then, we can only enjoy the current calm.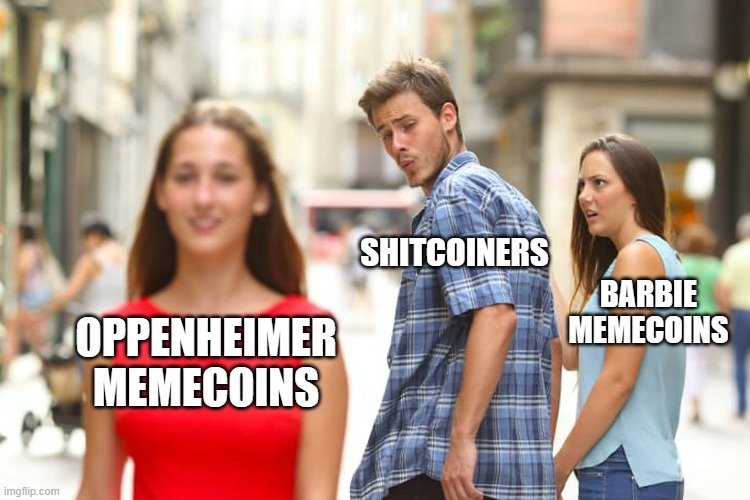 But it's never calm in the crypto space. Just in case you live under a rock, FTX exchange is trying to make a comeback. If you dipped some cash into the troubled coin, you may have seen some pumps a few weeks ago. I'm sure you weren't expecting that as the main gist from a guy with a sack of snacks. The news is, Sam is getting sued. I whispered those words, don't shout! We can all pretend to be surprised when we hear that from a friend at work. Talking about friends at work, you should be planning a memecoin launch with your friends, you could just create the next Pepe.
Not sure if you are expecting another full paragraph, it's just a snack-time talk. I just took the last bite. Last bites are like breakups. They leave a taste until your next meal. If you bought UNIBOT about a month ago, your next meal should be a steak, else, just have a burger and pray for a green candle. Been a good time, this is the Jump-off; title of the next edition will be inspired by the name of the snack. You don't want to miss it, so just follow, even if it's just for the sake of following. Yeah, that's it for now…this Soda tastes bad…
Follow up with CRYPTOCURRENCY SCRIPTS to stay refreshed in the crypto space with comprehensive articles and important tips.
There is no ads to display, Please add some